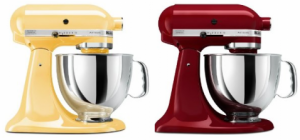 This is a smoking hot deal!  If you're looking to spoil your Mom for Mother's Day this is one *HOT* deal you definitely won't want to miss!   Currently, Amazon has 5 different colored KitchenAid Artisan 5-Quart Stand Mixers marked down to just $199.99 + FREE shipping through Amazon Prime.  These are temporarily marked down from $349.99!  Choose from White, Onyx Black, Gloss Cinnamon, Majestic Yellow, or Buttercup colors.  These are beautiful colors to choose from!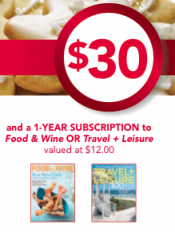 To make this deal even sweeter, you can also submit for the $30 mail-in rebate + FREE subscription to either Travel + Leisure or Food & Win Magazine found here when purchased by March 24th, 2012! However, if you would rather not receive the magazine subscription, you can choose to request a $12 refund! Refund requests must be postmarked by 4/24/12.

That means your final cost for this amazing KitchenAid mixer will be as low as ONLY $157.99 shipped to your door after all discounts and possible rebate options.  That's one crazy *HOT* bargain, especially considering these retail for $349.99!
**Please note that the fine print on the rebate states that purchases must be made at an authorized Kitchenaid retailer. Hip2Save said that she called the 1-888-474-2457 Customer Service number and did receive confirmation that Amazon is considered an authorized Kitchenaid retailer as long as you are not bidding on a specific item.
Thanks, Wheel 'n Deal Mama & Hip2Save!