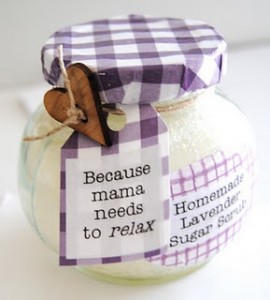 Maybe Matilda shows you how to make homemade lavender sugar scrub.  I can't wait to try this!  I think these would make adorable shower favors or maybe even a wedding favor.
Update:
I've received emails that this website link above is no longer working so I've written out my own lavender sugar scrub recipe for you. 🙂
What you'll need:
– mixing bowl and spoon
– 3 cups white sugar
– 1 cup + 2 Tbsp. good quality oil (I used olive oil but you can use any non-smelly oil)
– 10 drops of yummy-scented essential oil per jar (I choose lavender because most people love lavender, right?)
Combine your sugar and oil, mix it well, and divide into separate bowls (if you're planning to give each one a different scent). Add your essential oil, stir, and divide among your jars.
Voila! Easy peasy!
Thanks, reader Nicole for this great DIY project!