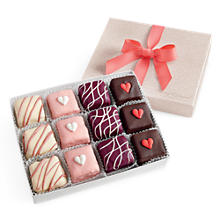 While searching for my own sweetheart a Valentine's Day gift I found this A-dor-able chocolate gift set from Harry & David.  I've heard awesome things about this company from big names on TV but I've never tried them myself.  This incredibly cute set is likely to be my first purchase from them and I think it's going to be a gift for myself!  My husband isn't real big on sweets so maybe I'll get him a fruit or savory gift set, I'm not sure yet.  Here's the deal I found on this chocolate set:
Valentine Petites Fours
"An elegant treat straight out of 18th century France, our petits fours are masterfully handcrafted in our bakery with unique flavors to bring a decadent flare to any party."
3 Strawberry Shortcake Petits Fours (1.4 oz. each)
3 Red Velvet Petits Fours (1.4 oz. each)
3 Lemon Raspberry Petits Fours (1.4 oz. each)
3 Triple Chocolate Petits Fours (1.4 oz. each)
[Regular Price: $29.95]
NOW $26.95 , Save 10%
+ 20% using coupon code VAL20
= a great deal on a yummy treat!
If you're interested in a gift from Harry & David for yourself and/or your sweetheart don't forget to shop through Ebates for double cash back!  It's normally 4% but today you can get 8% cash back.  Also, if you order by 2/7 you can have your Valentine's Day gifts arrive in time by only using standard shipping.