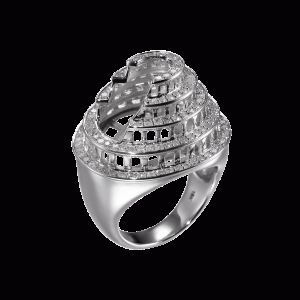 New social shopping site Plukka.com opened up last month and they have big dreams of changing the way you buy fine jewelry forever!
How it works: Every piece of jewelry is only available for a flash sale that only lasts a couple of days.  Simple enough, right?  Well, here's the unusual part…the transaction operates on a "reverse auction" model.  The more of your friends that purchase an item the lower the price is.  When the sale closes, all buyers pay the same low price, the price that was set determined by how many friends purchased.
"We don't manufacture a product unless enough customers want to buy it. The more Plukka sells of an item, the less it costs the customer," says co-founder Joanne Ooi explained to WWD. "If your friend buys the same item as you, it costs you less."
Check out the sale beginning on January 18, 2012, Plukka is featuring "Part of our Seven Wonders series, this witty ring shows the ruined Coliseum, replete with historically accurate, collapsed walls. .90 carats of white diamonds decorate the hefty "building" structure and shank of 18k white gold."  How awesome is that?  I love it!!!!
To check out this amazing ring and many other beautiful pieces check out Plukka.com.