Update: This giveaway is now over.  Out of 205 entries, our winner is Dianna T.!  Congratulations, Dianna!!!
Everyone has household chores they like more than others, right?  I don't mind dusting or vacuuming but I despise ironing.  Second on my most hated list is emptying the dishwasher.  I don't know what it is about it that bugs me so but I would rather wash all the dishes by hand than to empty the dishwasher.  Maybe it's the bending over part that gets me, who knows?  What's worse than emptying it is when I do and find that the glasses still have spots on them!  That means that I have to dab a little water on each glass and scrub it dry.  Not fun.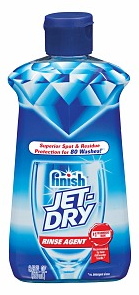 When I was offered a chance to review Finish Jet-Dry I was excited for the opportunity to try it out free of cost!  However, I was skeptical.  I had never used Jet-Dry before or any rinse aid actually.  I was thrilled to find that I could empty the whole bottle into my dishwasher and I wouldn't have to think about it again for 40 washes.  40 washes.  Awesome.
Not only is Jet-Dry low maintenance but it works wonders on my spotted glasses.  Hooray! All of my glasses were sparking clear and squeaking clean!  I would pay good money to have these streak-less glasses but luckily with Jet-Dry I don't have to!  Jet-Dry is an affordable product that saves me time.  Time is something that is precious in my family so I'm grateful for any product that will save me a few minutes here and there.
One bottle of retails for around $3.99 and will last 40 washes!  You can read more about Jet-Dry by visiting the 
Finish
website.  You can also snag a
$0.50 off Jet-Dry coupon
!
Enter to win a free bottle of Finish Jet-Dry by filling out the Rafflecopter form below!
"I wrote this review while participating in a blog tour by Mom Central Consulting on behalf of Finish and received a FinishJet-Dry product sample to facilitate my review, a sample to giveaway, and a promotional item to thank me for taking the time to participate."