My friend Penelope, owner of PenelopesOasis, is here to share one of her favorite Christmas recipes!  I'll turn it over to her now…
During the holidays my family loves to bake and enjoy treats. Today Ashley is letting me share a family recipe with you that I hope you enjoy as much as I do. To view more of my favorite family recipes, pop over to my site one day (I also have great hair tutorials perfect for holiday parties and other fun things).
One of our family's favorite treats for Christmas is a yummy biscotti recipe with flavors of cinnamon and vanilla. In addition to being totally delicious, you will absolutely love how wonderful your kitchen smells when you make this yummy treat. There is something about cinnamon that is perfect for the holiday season, and everyone will be drawn to the kitchen while these tasty Cinnamon Biscotti cookies are baking.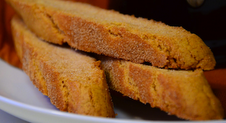 Ingredients:
– 4 cups flour (divided into three cups and one cup)
– 2 tbs baking powder
– 1/2 tsp baking soda
– 1 stick salted butter, softened
– 2 eggs
– 1 egg yolk
– 1/2 cup vegetable shortening
– 1 1/2 cups sugar
– 1 1/2 tsp vanilla extract
– 2 tsp ground cinnamon
Directions
1. Preheat oven to 325 degrees F.
2. Combine three cups flour, baking powder and baking soda in a bowl and set aside.
3. In a large bowl, mix butter, shortening and one cup of sugar with a mixer on medium until mix is light and fluffy. Beat in eggs, then vanilla, and mix well.
4. Add flour mixture a little bit at a time and blend well until a soft dough forms.
5. Divide dough into four parts and shape each piece of dough into an eight-inch long log. Place logs on cookie sheet, at least four inches apart, and lightly press down on each log with a flat surface until each is about 3 inches wide.
6. Bake for about 20 minutes, until lightly browned, or until a toothpick comes out clean. If using multiple cookie sheets, rotate location (top and bottom racks) 1/2 way through for even baking. Remove from oven and transfer cookie logs onto a cutting board, but keep oven on.
7. Combine cinnamon with remaining sugar.
8. Cut cookies diagonally into 1/2 inch thick slices and coat each cookie slice with cinnamon sugar mixture.
9. Place the cookies back onto the cookie sheets (cut-side down) and bake for 15 minutes. Turn slices over and bake for 15 more minutes on other side.
10. Remove cookies from oven and let cool at least 15 minutes before serving. Makes about 40-50 cookies.