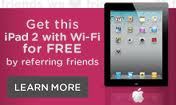 If you love NoMoreRack.com as much as I do, why not share the savings with your friends and family AND earn Apple products at that same time!  You can earn FREE iPad2s, cameras, Wiis, TVs, and so much more just by referring friends and family to join NoMoreRack.com!  There is absolutely no purchase is required! Just head on over to NoMoreRack.com to sign up, click on "My Profile" (in the upper right corner) and click on "Invite Friends".  Copy your unique referral link and email it and/or post it on your Facebook page and/or Twitter page.   The sky's the limit!  To check your friend referrals head over here and when you reach your target number of friends you can submit your request for your free products! Pretty awesome, right?
Don't forget to mention to all your friends and family that NoMoreRack.com is still offering all new members a $10 credit good towards any purchase of $20 or more.  After registering for a NoMoreRack.com account, click on the "My Profile" tab (top right side) and then click on "Redeem Gift Card" under "My Profile" and enter code P1070 to score your FREE $10 credit!
P.S. I posted about a similar offer from NoMoreRack before and I was able to snag a couple of  products (thanks to all of you!), so I can personally vouch for the fact that this is a legitimate offer.  Having said that, maybe we will have a new Apple product giveaway on Embracing Beauty?!
Brought to you by your friends at NoMoreRack.com!