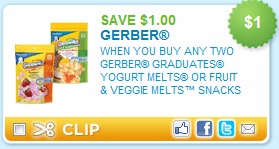 Here's another Gerber Graduates printable coupon that will probably only be up for another hour or two!
Hurry over to Coupons.com and find your Gerber printable coupon to save $1 on 2 packs of Gerber Graduates Yogurt Melts, Fruit Melts and/or Veggie Melts.
Kroger has Gerber Graduates for $1.37 so when you use the coupon you'll only pay $1.74 for 2!  Thanks Nicole!
For some reason, there are never very many of these coupons available, so it's a good idea to print your coupons now if you think you'll want them anytime in the near future.