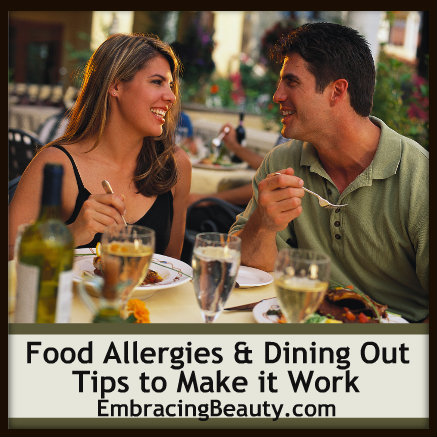 Wow! I can't believe there is only one week left in this series and in my guest posting.  It has been fun for me to write and share this information with the Embracing Beauty readers.  I hope that you have benefited from it.  If you have any further questions or suggestions on the topic, don't hesitate to let me know.  I'm happy to continue with this series as long as needed in order to cover all the basis.
If you are just now tuning into the series on Frugal Food Allergy Living, you can read more on food allergies and living frugally at The Willing Cook.
From the original post Food Allergies and Budgets:
Avoid Restaurants
In our home, the possibility of cross-contamination carries too much of a risk just for the convenience.  Plus, I can fix dinner for my family of 5 for about the same price as 1 Happy Meal.
We have two main reasons for avoiding restaurants: food allergies and money.  If we didn't have food allergies with which to contend and an abundance of money, we might frequent restaurants much more often.  But that is not our situation, and we are fine with it.
Restaurants and Food Allergies:
You truly never know what you're going to get.  I have heard numerous stories, including our own experience, when you think a meal is safe and ends up tragic.
A new chef/cook at a restaurant that has always been "safe," can change up the ingredients in a familiar dish.  I was told a story of this happening to a man with a peanut allergy that ended in his tragic death (The pharmacist told me this story after my son was in the ER for his anaphylactic reaction at a restaurant.  Maybe not the best story to tell an already anxious mother.)
You can tell a server of your food allergies, but they either don't care or don't understand the acute danger of it.  There was a recent news story of a woman dying in Israel from a nut allergy at a restaurant after informing her server of her allergy, but was served it anyway.
All your ducks could be in a row, yet there is still a risk of cross-contamination.  Cross-contamination can be in the form of sharing serving utensils with allergy food, allergy food on the same grill as your "safe" food or many other possibilities.
Unknown ingredients.  If you are not able to read the packaging from which the food comes, you cannot be certain of it's safety.  Bread/buns with a milk ingredient is a good example of this.
Restaurants and Budgets
I have heard news reports that low-income families cannot afford healthy food, so that is why they tend to be overweight and/or make poor food choices.  I do not completely buy this.  While it might be the case that food stamps do not cover healthier food options (the specifics of this, I do not know), there are still inexpensive options with fresh produce and manager special meat.  I could get on a soapbox about this, but I will refrain from that here.
I have figured out that I can easily feed my family of 5 a nutritious and tasty dinner for less than the price of a value meal at McDonald's.  You can read this post on a recent weekly menu where we only spent $30 for 5 meals for our family.  It is so easy to do.
Eating out is expensive! Period.  You can try to mimic a favorite restaurant dish at home by simply googling the recipe.
The Exceptions
Sometimes it's just nice to be able to get away from home and enjoy someone else serving you.  You have to budget for it though and you have to be practical about what you can afford.
Don't buy the lobster tail when you should settle for salmon.
Skip the appetizer, dessert and drinks, and have them at home instead before/after you go.
Be selective about your restaurant.  If you don't go out to eat very often, save this special treat for a place that you know will end in an enjoyable meal.
If you know you should cut this expense out of your budget, try it slowly.  If you go out to eat once or twice per week, slowly knock it down to once or twice a month.
Look for coupons.  Groupon, Living Social and Restaurant.com are great websites for finding restaurant coupons.  Some large cities have city-specific deals websites too.
As far as food allergies go, I have read that chain restaurants typically have specific protocols in place for food preparation, ingredients, etc., making them a possibly "safer" choice.  Note that I said "typically."  Many restaurants have their menus online with ingredient information that you can check before going.
Allergy Eats is an online guide to allergy friendly restaurants.  You can read personal reviews of many restaurants and leave your own.
When in doubt, bring your own food (or your child's food) to a restaurant.  Let your server know of your food allergies and ask if they mind that you brought your own food.  This is especially the case if you have to go to a restaurant for a special occasion/gathering.  Most of the time, restaurants are relieved.
Finally, always carry your allergy rescue medication with you!  It can save a life!
Do you have any experience or suggestions to add about avoiding restaurants in order to live a frugal food allergy life?
Our final post in the Frugal Food Allergy Living series next week: Prepare Food from Scratch.