You can find all the posts in the series, Frugal Food Allergy Living.  Read more on the subject of food allergies at The Willing Cook, including budget & cooking tips, recipes, personal stories and more.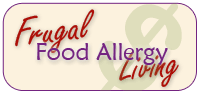 Continuing on…today we focus on how to shop the "Manager Specials."  If you employ shopping the manager specials on a regular grocery budget, you know that it can truly make a big impact on the budget.  It does not have to apply to "regular" grocery budgets though, as there are plenty of options for food allergy shoppers as well.
From the original post on "Food Allergies and Budgets," I briefly noted the following concerning "manager specials":
Many grocery stores have set times for selling their marked down products that are nearing expiration, dented, or being discontinued.  Buy expiring meat and produce (like bell peppers or onions) and freeze or cook immediately .  Sometimes, you may find allergy-friendly products being cleared off the shelf (I scored Gluten-Free Bisquick for $1.99, regularly $5.39.  My husband was thrilled…for the whole 16 ounces!).   A coupon for a "Manager Special," may make it free!
Let's go over shopping "manager specials" in more detail…
Almost every store has a set time that they bring out discounted produce and meat.  Ask the manager in that department what that time is.  Sometimes, it can be multiple times a day.
Buy meat that still looks good and has a couple days until expiration.  Either cook the meat up immediately for dinner (or you could freeze cooked meat) or freeze.  Remember when thawing the meat back out that you use it immediately.
Buy produce that still looks good.  Discounted produce doesn't do you any good if it is mostly rotten (and sometimes they do put rotten stuff out there!).  Again, either prepare or freeze immediately.  You can freeze many vegetables and fruits, and then use them from their frozen state.  I do this with bell peppers, especially.  I refuse to pay $1/bell pepper, when I can stock up on manager special getting 3/$1.
Don't stick to just the meat and produce departments.  Most stores have a section for discounted dairy and eggs as well.  You can freeze milk and thaw it out to be used in a recipe.  A good example of this is using frozen milk (thawed) in large batch recipes (like freezer cooking).  Whole Wheat Chocolate Chip Oatmeal Pancakes is a great such recipe.
Other great "manager specials" that can be found in most grocery stores is non-perishable items.  Again, many stores have a dedicated section in their store where they're trying to sell off these items.  Such items as discontinued goods, dented cans/boxes, seasonal items, package redesign and goods nearing expiration.  You can ask someone at the Customer Service desk where this area is as sometimes they are in hard-to-find places.
You can sometimes be fortunate enough to have a coupon for a "manager special" making for a fantastic deal!
"Manager Specials" aren't focused only on "normal" food.  I have found numerous allergy-friendly foods over the years, including non-dairy milks, yogurts and ice creams, Gluten-free Bisquick, and more.  I often find organic products as well.
Finally, health/beauty and household products are also placed on "manger special."  Such items that I have purchased in the past include, Pyrex casserole dishes, diapers and sunscreen, just to name a few.
I want to give you some recent examples of our "Manager Special" buys.  Our local Meijer always puts out a big cart of discounted produce on Sunday around noon.  We stop every week on our way home from church.  There is always a line (and a struggle : ) for the goods…well not really).
Some of our Manager Specials
6 artichokes – 25¢ each
2 containers Earthbound Farm Organic Baby Spinach – 50¢ each
2 packs stuffed portobello mushrooms – 53¢ each
2 organic zucchini – 50¢ total
2 organic cucumbers – 50¢ total
1 large papaya – 53¢ (This ended up not tasting very good, so we threw half of it out.)
3 tomatoes-on-the-vine – 47¢ total
large bag grape tomatoes – 60¢ total
1 eggplant – 64¢
3 large sweet onions – 56¢ total
Fiber One Yogurt, 4 pack – $1.38 + $1 off coupon = 38¢ total
2.5 lbs. Chicken Legs – 95¢/lb. = $2.68 total
5.8 lbs. Lean Ground Beef – $1.99/lb. = $12.13 total  (I split this up into 1 lb. bags and froze.)
We also bought several bags of pears that I used to make a gluten/allergy-free pear crisp.  Recipe coming soon.
I could go through and figure out the money saved on these purchases, but you get the picture.  One word of caution: don't buy something that you know you won't eat.  Just because it's a good deal doesn't mean you need to buy it.  If it's thrown out, that's money thrown out too.
So, get out there! Get started! Talk to your store about their set "Manager Special" time and save yourself some money.  You CAN be frugal and live with food allergies!
Do you have any stories on how you save buying "manager specials"?  I would love to hear your experience.
Up next week: "Frugal Food Allergy Living: Make Homemade Gluten-Free Flour"