So far in this guest post series has been Food Allergies and Budgets and Shopping Grocery Ads.  You can read more on the subject of food allergies at The Willing Cook, including budget & cooking tips, recipes, personal stories and more.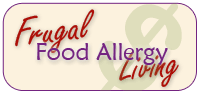 Today's topic: Using Coupons to help your grocery budget, even when living with food allergies.  Since this is partially a coupon site, this is not news to most of you and probably old hat to many.  However, just because you have food allergies or Celiac doesn't mean you have to throw all those coupons out the window (just some).  I hope that some of you will find good advice from this post today.  From the original post on Food Allergies and Budgets…
Coupons for allergy-friendly foods are few, but they aren't completely non-existent.  When there is an allergy coupon, ask friends and family for their extra.  I do not purchase a Sunday paper because I don't like buying it when I may barely break even.  A neighbor gives me her coupons or I check the recycling center.  Another resource is the online coupon sites.  Also, coupons for toiletry and household products can help reduce the budget.  Every dollar saved helps and it adds up!
Now, let's break that down…
First, coupon options:

Sunday Newspaper
Websites: Coupons.com, Redplum.com, Smartsource.com
Coupon Blogs: Many of the grocery deal/coupon blogs have links to coupons.  I mentioned some of my favorite in grocery ad/coupon match ups in last weeks post.
"Blinkies": Coupon displays on grocery store shelves.
Digital Coupons that are store-specific.
Printable or printed store-specific coupons (ex., Whole Foods prints the"Whole Deal" and can be found in the store or on their website).
Other Media: magazines, newspapers, periodicals, mailers, etc.
Using the various outlets for coupons, you can find allergy-friendly food coupons, on occasion.  If online, print them quickly as they tend to run out of the number available quickly.
Round up as many of the unused allergy-friendly coupons from the Sunday newspaper as you can from neighbors, family, friends, recycling centers, etc.  A good example are recent coupons for Silk Almond Milk.  A big couponing friend of mine buys 8 newspapers each week, but does not use the Almond Milk coupons.  I scored big time on these when they gave all 8 to me.  With these coupons and a recent sale at Kroger, I was able to get Silk Almond Milk for 99¢/half gallon.  We are still using up this stash of Almond Milk as they do not expire as quickly as cow's milk.
If you are like my family and are only able to snip a small number of coupons from the Sunday newspaper each week, you must decide if the cost of the newspaper outweighs the savings with the coupons.  If that is the case, you're not helping your budget to buy the newspaper.  I have a neighbor who does not use her coupons, so she gives them to me.  You could ask family, friends or even check recycling centers.
Coupons are not limited to just food.  You can save a lot of money in a year using coupons for health, toiletry and household items.
Advice on Using Coupons
Just because you snip a coupon doesn't mean you have to use it.  I will often cut out a coupon just in case I find a great deal on it when matched up with a sale.  There are many times when I allow coupons to expire (or I will place them on the grocery shelf for someone else's use) because it's not a product that I really need and it's not a good enough price to warrant purchase.
Along the same lines, using a coupon just because you have it can still have a negative affect on your budget.  If you don't really need the item now, need the item in the future or plan to donate the item, why spend the money on it?  Many new couponers find themselves in this position where they buy things because they have the coupon and find at the end of the month that they've actually spent more with coupons than without.  Be careful of this trap!
Try your best to hold onto a coupon until the item goes on sale, so that you can get the most bang for your buck.  You can often score free products this way.
Couponing Extras
Many people donate or sell their extra coupons.  If you have a big stockpile of coupons, this might be a good avenue for you.
If you find yourself stockpiling on items, especially household and toiletry items, consider donating them to non-profit organizations that help others.  With the recent tornadoes, there has been an outpouring of coupon-generated stockpiles for these needy people.
Do you have any additional tips about incorporating couponing into your food allergy budget?  Please share your ideas with us!
Next week: Frugal Food Allergy Living: Shop "Manager Specials"