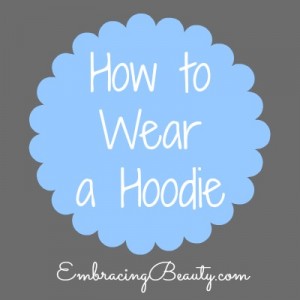 Hoodies are not the most stylish pieces of clothing we have ever come across but there's no denying their comfort and 'throw on' ability. What we have discovered in recent weeks is that there ARE ways to make a hoodie look good and stars such as Mary-Kate Olsen have been showing us how. Here are our three looks to try with your cool hoodies.
Number 1. The black hoodie – the black hoodie is a difficult one because you don't want to transform yourself into a goth overnight but a moody look is good if you want to cover up a bad night. Team your black hoodie with ultra-skinny black jeans, a basic white t-shirt and skyscraper heels. The heels add a touch of the feminine to this look so you don't start looking like a misplaced teenager. Wear the hood up over tousled, loose locks and add the accessories. In this case, go for black sunglasses, preferably something like wayfarers, and then add a brightly colored bag and a statement piece of jewelery such as an ornamental ring. When you remove the hoodie, you will actually be wearing a very sophisticated outfit that you have just dressed down a little.
Number 2. Colored hoodies – color blocking is very in right now so wearing a bright hoodie is a definite yes. We love them in bright greens, electric blues and coral that are perfect for the summer. This time the outfit only needs a slight few differences to work. Replace your white t-shirt with a black one and keep your black skinny jeans and heels. Black heels with little details such as buckles and studs will work well with all of these looks. Simply replace the wayfarers with silver aviators and replace jewelery with a printed neck scarf; again, the tougher the pattern (think along the lines of skulls or similar), the more the look will work together, it's all very Angelina Jolie, no nonsense style.
Number 3. Grey hoodies – everyone seems to have a grey hoodie, a trusty friend that is always there when we need a little slouchy comfort, so we thought it essential to include a look for this. Instead of pairing hoodies with jeans and trainers, as above keep the look edgy and feminine. Team leather look trousers or wet look leggings with black ankle boots, a black leather bag and this season's Gaga-esque round sunglasses.
All of these looks are very celebrity 'just off the plane' and everyone will be wondering who is under that hood.  Do you have a favorite hoodie look that you love?