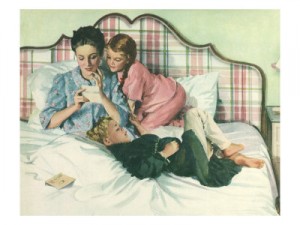 Today I have a guest post to share with you written by Mrs.White from The Legacy of Home.  I greatly appreciate what she has to share and I hope it will be a blessing to you too!
When my children were very young, I had trouble keeping up with everything. I had five children from the age of 9 all the way down to newborn, and we were homeschooling. I was busy! I remember Nicole (7) coming up and telling me some marvelous new idea she had. I was in the middle of soothing a fussy baby and said, "Honey, that sounds like something I want to hear all about. But would you please write me a letter about it? I want to take the time to really read it.  I will write you back."
Oh my goodness, that child was excited! She smiled and raced off to get a notebook. A short time later, I had a letter in my hand. I read it while nursing the baby. She kept running over to me and saying, "Did you write back yet?" She was so eager to hear my thoughts! She was thrilled with the idea of getting a letter from mother!
I finally had a bit of quiet time in the early evening. The children had eaten their supper, the baby had been bathed and was sleeping in the bassinet, and my husband was watching television. I re-read Nicole's letter and smiled. I wrote her a long letter back, telling her how happy I was with her idea. I asked her questions (so she would have a reason to write back) and then told her how much I loved her. Of course, I ended the letter with:


"Love Mommy"
PS – W.B.S.
Soon, this letter writing idea caught on. When a child had a problem, I told him to write about it.  If the child had a wish list, she was to write it all down in a letter.  I wrote back, encouraging my children, advising them, and helping them to feel like they were extra special to me. I took the time each night, to write them a private letter just for them.
Next, we decided to make a mailbox in the house.  This was placed on a shelf in our living room. The children started writing letters to each other.  One day, Matthew (around 4 at the time), said, "Mom, there is a letter in there for the baby!" Can you just imagine the smile on his face? He had written a little note for his baby brother!
Now, all these years later, two of my children are grown and living on their own. I write them "real" letters in the mail, even though we talk on the phone. I  have three teenagers still here at home. I was thinking we need another mailbox.
I will write them little notes, sometimes funny, sometimes serious. I will write loving thoughts and brighten their days. And I hope they will find it just as much fun as when they were my little, precious darlings so long ago.