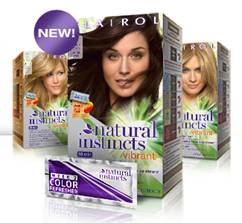 Summer is officially here and in full swing.  That means beautiful tans, bright flip flops, swimsuits, and lightened locks!  To help maintain vibrant hair color throughout the summer Clairol wants to help out.
I'm looking for one Embracing Beauty reader to review your choice of colors in Clairol's Natural Instincts New Vibrant Collection or Clairol's traditional demi-permanent (lasts longer than semi-permanent but not as long as permanent) with their New Week 2 Color Refresher.
If selected to participate in the blog tour, you will receive your selected Clairol product and have three weeks to review it before submitting your guest post. To add to the fun be sure to include pictures of the experience and of course before and after shots.
To sign up for this review, please click here.
If you have any questions, please contact me.  Thanks so much, and I look forward to working with one of you on this campaign!