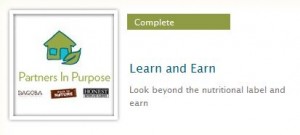 Here's another way you can earn 25 free Recyclebank points!
Here's how:
Login or register for a free Recyclebank account.
Click the "Earn Points" tab at the top of the page.
Scroll down until you see the Partners in Purpose "Learn & Earn" opportunity.
Click on it, watch the short video, and take a quick quiz.
If you're new to Recyclebank you can go here to learn how Recyclebank works.
(Note: The link in this post contain my referral links. Read my new disclosure policy here for details.)