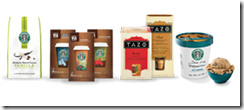 Starbucks has a printable coupon booklet available with these coupons:
Save $1 on any two pints of Starbucks® Ice Cream.
Save $1 on Starbucks VIA® Ready Brew coffee.
Save $1 on Tazo® tea.
Save $1.50 on Starbucks® packaged coffee.
A couple of these coupons may work at Harris Teeter Super Doubles.