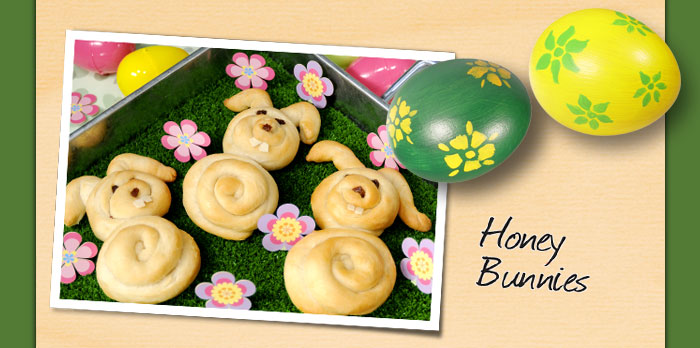 This is a recipe I received from Bridgford and I thought the bunnies were too cute not to share it!
Ingredients:
1 pkg Bridgford Parkerhouse Rolls, thawed
¼ cup melted butter mixed with 1 tablespoon honey
24 Raisins
24 Slivered almonds
Instructions:
Lightly grease sheet pans. With lightly floured hands, roll a piece of dough between palms of hands to a rope approx 12-16 inches long. Continue with remaining pieces of dough. Place ropes of dough on lightly floured surface. To assemble bunnies; coil one rope into a circle on prepared sheet pan. Take second rope and cut off a 4-inch piece; set aside. Take remaining 8 inch rope and coil into another circle for head; placing it above the first coil. Take 4 inch piece and divide in half for ears. Attach to bunny head. Continue with remaining pieces of dough, placing bunnies 3-4 inches apart on prepared pans. Brush with honey butter. Let rise until double in size. Bake in a preheated 375° oven for 15-20 minutes or until golden brown. Remove from oven and brush with additional honey butter. Let cool.With a tooth pick, poke holes for eyes and teeth. Take raisins (cut in half) and place in holes for eyes. Insert 2 slivered almonds for bunny teeth.
If you choose to opt-in to receive Bridgford's newsletter you can receive a coupon from them!