I absolutely LOVE juice!  Let me clarify, I love 100% juice.  Not only that but when I buy juice I want it to be 100% of the juice that is advertised on the front of the package.  For instance, 100% grapefruit juice, 100% pomegranate, 100% blueberry, etc.  You can usually spot these because their price is a little higher than the bottles with "100% juice" that is mostly apple juice.  I find these 100% juices to be better tasting and I know they are better for you!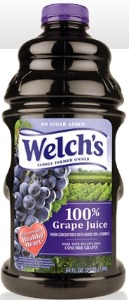 A few days before I was asked to participate in this Welch's Grape Juice tour I had bought a bottle of Welch's 100% Grape Juice  (because it was on sale and I had $1 off coupon!).  I couldn't believe how much I enjoyed it and I raved to my husband about it for days!  I've always been a big
fan of juice but I haven't had grape juice in the longest time.  I think the reason is because I'm clumsy and  grape juice doesn't come out of clothes too easily.  Well, from now on I'm just going to have to be super careful because I love this stuff!  Did I mention that Welch's Grape Juice is made from Concord grapes, has no sugar added, and it contains Vitamin C?  It's true and it also has no artificial flavors or colors.  What's not to love?
Not only does Welch's Grape Juice taste good, but it is good for you too!  Just a half a cup offers a full serving of fruit.  Because it's made from Concord grapes, it has antioxidants along with a mix of plant nutrients called polyphenols, which may benefit heart health!  By the way, did you know that March is National Nutrition Month?  I'm learning so much today!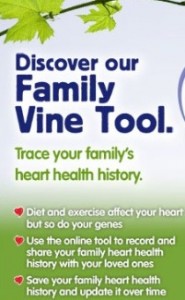 In addition to diet and exercise, our genes also play a part in our heart health.  Welch's knows this and believes that in order to have optimum health it's important to know what conditions existed in our family previously.  To help everyone trace their family health history Welch's created the Family Vine Tool.  This is where you can trace family health history, update it as things change, and print it out to take to your family doctor.
Welch's didn't stop with the Family Vine Tool, in order to help people learn about health conditions and how grapes can help, they created the Concord Grape Science Center.  I had no idea that grapes were so beneficial!
In addition to promoting heart healthfulness, Welch's has prepared recipes for creating delicious meals and snacks with vibrantly colored fruit.  You can find an abundance of fun recipes in the Welch's Recipe Box.
I had painted a purple flower to show off Welch's Paint it Purple slogan but I can't get the photo to load on the computer so you'll have to wait for that unveiling. 🙂
For more information on Welch's you can connect with them on Twitter (@Welchs) and through their Welch's Facebook Fan page.
I wrote this review while participating in a blog tour by Mom Central Consulting on behalf of Welch's and received a product sample to facilitate my review and a gift code to thank me for taking the time to participate.