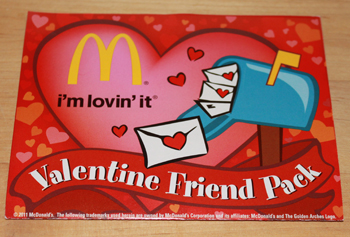 McDonald's releases a coupon booklet with FREE kids items about 4-6 times a year. The new Valentine's booklet is out now and sells for only $1.  The coupons are good from 2/14 to 5/15.
Here's what coupons you will find:
FREE Apple Dippers (3 of these)
FREE Apple Juice or Milk Jug (3 of these)
FREE Small Cone (3 of these)
FREE Hamburger (3 of these)
You are limited to 1 item per certificate and you must be 12 or under to use it.
Thanks, QueenBee Coupons!