Just because I'm staying in for Valentine's Day (my husband is cooking for me!), doesn't mean that I don't want to look my very best!  Here are a couple of timeless options that will work in 2011 and far into the future.  What Valentine's Day outfits suggestions do you have?  Here are my ideas:
1. A dress that looks like it was made for you
Deep jewel tones and vibrant shapes that accent classic silhouettes will give you a timelessly chic look.  (Personally, I might wear an undershirt with these and maybe leggings with the shorter dresses)
Blue dress: Belted Hacci Dress from WetSeal sells for $24.50 and comes with the adjustable belt shown.
Olive dress: Cinched Lunch Date Dress from Fredrick's is on sale for $39.20.  They also have a sale going on now where you can save $10 off a $75 purchase.
Red dress:  This is a Very dress (a UK company).  This Jersey Knot Dress is from their broad line of women's clothes and retails for GBP 89 (89 pounds).  Keep in mind that US and UK sizes vary.
2.  A stunning necklace
This may be simple and subdued, but sometimes it's fun to choose a necklace that makes a statement.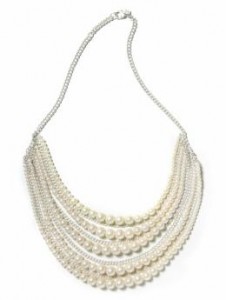 This Pearl Drama Necklace from Banana Republic sells for $79.50 shipped.
3. Great heels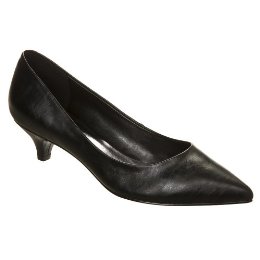 Maybe you are one of those women who can rock the 4 inch heels but I cannot.  I usually stick to the 2 inch heels but I love this kitten heel from Target.  At $24.99 it's hard to beat.
And the number one accessory to make you look gorgeous is…
4. Confidence!
The trick to looking good is confidence.  I confident I'm not the first person to say this to you but it really is the completion to any outfit.   No matter what you're wearing or how much you've spent, the trick is in knowing how positively amazing you look and you will glow!