This is something I would like for each and every one of my readers to do!  It could possibly mean $2,000 or a new Buick for you!!!  Did I get your attention?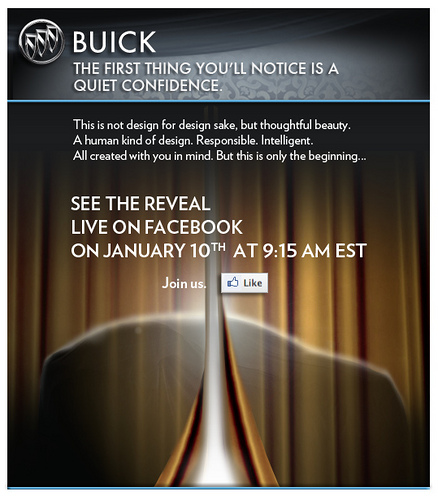 Go to Facebook and "like" Buick through this link http://on.fb.me/gWlaaM and by doing so you'll be given access to view a specially produced live event at the North American International Auto Show, Detroit (NAIAS) that will be live streaming on Buick's Facebook Page.  Here's where it gets good… watch on January 10th, 9:15 ET and those who socially interact with the Ustream could be randomly picked to win $2000 and again later for an additional chance to win a brand new Buick!
Did I mention that not many people know about this?  It's true, here's the quote from Buick's pr lady, "Not many people know about this, so you'll have the advantage of telling your audience."
Okay, first things first, go "like" Buick on Facebook through this link http://on.fb.me/gWlaaM, for your chance to win!
Next, tune in through Buick's Facebook page on Jan. 10th 9:15 ET.
Also if I refer the most people to "like" their page I could win $5,000 too.  Win-win, right?
Good luck and if any of my readers win I want to see pictures! 🙂