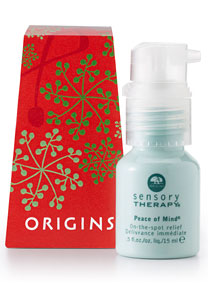 You can snag Origin's Peace of Mind On-the-spot Relief for $10.00 and get free shipping and free gift wrap plus applicable sales tax through Wednesday, November 17.  If you want to order these for gifts they have a limit of 6.  Don't forget to shop thru Ebates to earn 4.0% cash back!
On the order review page under be sure to select "Gift Wrapping" (it's free!).  You get to choose a green box with raffia, green ribbon, or red ribbon for the entire order or a special decoration for each item.  Plus you'll get a blank message card with each purchase.  If you're ordering several items you'll get a discount of 10% off $38+, 15% off $60+ and 20% off $80+ automatically with no coupon code required.
This awesome deal was found by Freebies4Mom who loves Origin's Peace of Mind.  She says that it smells like peppermint and loves dab it on her pulse points for sensory therapy.  She has a few around her house and even one in her car!