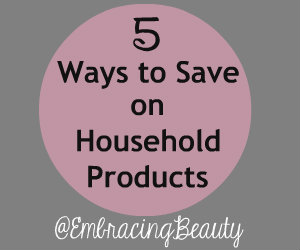 A big thanks goes to Elizabeth Cutten for this post!

Whenever you go out and grocery shop, you're going to find that you're probably always purchasing household items such as paper towel, toilet paper, and more. While we can't really get away from it, items like this really eat away at our budget.
Since I'm an advocate of saving money, I wanted to give you some tips that I use when I want to save some money on household items. You're going to find that when you're creative, you can save a ton of cash. Trust me, it does add up over the years!
Hit up the dollar store: There's a good chance that there is a dollar store in your area. If you don't shop here, it's time that you do right now. They have about every cleaner imaginable, as well as toilet paper, paper towel, and more. The best thing about it is that everything will only cost you a dollar!
Create your own products: Did you know that you can create your own cleaner, as well as laundry detergent? Find some great organic recipes online to find out how you can create a cleaner, as well as detergent.
Use coupons: Yes, I know it sounds obvious but you can save so much with coupons when you print them online, as well as get them from your Sunday paper. Another great way to get coupons is by registering on your favorite cleaner's website. Bookmark sites like EmbracingBeauty.com that can help you spot coupons.
Learn the tricks: There are some cool tricks that you can use that many people don't know about. For instance, you can fill your detergent bottle back up with water when it gets about half empty. Since the bottle is mainly concentrate, you will find that it will work just as well. Another cool one is cutting your fabric sheets in half.
Buy in bulk: If you have a CostCo or any other membership like that, you're going to find that you can take advantage of bulk purchases. Things such as diapers, paper towels, cleaner and more are all worth purchasing in bulk. Just make sure that you know what you're paying per item to see if you're getting the best deal.
As long as you're creative, you follow a few tips mentioned above, and you have the motivation to save, you're going to find that anything is possible. Try out the tips above and see how much you can save on your next shopping trip!
This post was written by Elizabeth Cutten. She's a contributor for FindSecuredCards, a getting out of debt/secured credit card site helping those fight off the debt that they have, as well as get cost saving strategies.