I'll be the first to admit that my diet isn't ideal but I have been doing a lot better since I've became pregnant.  I've been buying a ton of fresh fruits and vegetables to get those important nutrients my body and baby need.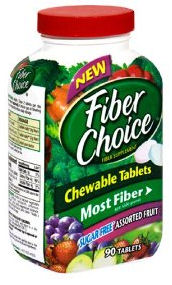 I heard on Dr.Oz today that to get your recommended daily fiber you have to eat 6 apples, that's right 6!  I try to get as many products as I can with added fiber but I still feel like I'm falling short.  According to The American Dietetic Association, women need 25-30 grams of fiber each day.  I don't know about you but I feel like I get around 15 grams on a daily basis.  Fiber not only helps in keeping us regular but also aids in weight control!
When I mentioned to my husband that I would be getting a coupon for FiberChoice chewable supplements he was a lot more excited than I expected.  He knows the importance of fiber and he was glad to have a chewable pill to help add fiber to his diet.  The recommended daily dose is two tablets and each chewable tab has two grams of fiber.  I also want to point out that the main ingredient in FiberChoice is inulin, which is the same fiber that is naturally found in fruits and vegetables! Inulin is prebiotic, which means it helps nourish the good bacteria (the probiotics) in my digestive tract.
Does FiberChoice supplements sound right for you and your family?   If  so, go to FiberChoice and register and you'll be able to get a FiberChoice printable coupon to save $2 on your next purchase!
More about purchasing FiberChoice:
FiberChoice® is available in four formulas: FiberChoice® original formula; FiberChoice® Weight Management; FiberChoice® Plus Calcium, and FiberChoice® Plus Antioxidants.
FiberChoice® flavor varieties include orange, pomegranate, assorted berries, strawberry, sugar-free orange medley, and sugar-free assorted fruit (green apple, grape and strawberry).
FiberChoice® is available in 10, 90 and 220-count bottles, ranging in price from $2.49 to $19.99.
My husband chose the FiberChoice Weight Management supplements. They're sugar-free and have a yummy strawberry flavor!   The supplements also contain green tea, to help curb his appetite.  My husband isn't looking to lose weight (he better not while I'm pregnant!), but he wanted the FiberChoice tablets that would help him remain at his current weight.
Not only does FiberChoice offer supplements to help boost your fiber intake but when you follow them on FiberChoice on Twitter you can get more tips for easily adding fiber to your diet.
I wrote this review while participating in a blog tour by Mom Central Consulting on behalf of FiberChoice and received a coupon to facilitate my review and a gift code to thank me for taking the time to participate.