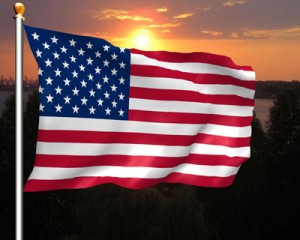 Our troops deserve huge congratulations today!  As many of you have already heard by now, US Navy SEALS carried out a daring raid early Sunday morning on a huge house not far from Islamabad, Pakistan.
Their target was Osama bin Laden…and…
They got him.
This is a HUGE milestone for our troops and our nation. We've been pursuing Osama bin Laden for over 9 years, after his Al Qaeda organization carried out the attacks of 9/11 that took the lives of almost 3,000 Americans.  Since 9/11 our troops and intelligence agencies hunted Osama and now they've finally caught him and brought him to justice.
For this accomplishment our troops deserve our eternal gratitude. Especially the US Navy SEALs who carried out the operation that finally got Bin Laden.  Americans all around the country took to the streets last night to celebrate, in Washington D.C., in New York, in my small city, and all over.

I want to thank the troops for their commitment and sacrifice!  They have proven that they have the dedication and patience to complete any mission, to deal with any threat and I for one am extremely grateful.  I hope this will be a reminder for us all to thank and appreciate our active troops and our veterans for the freedom we take for granted each and every day!