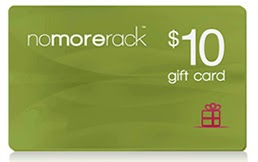 You may know that I have an iPad 2 giveaway going on now and one of the entries is sign up for a NoMoreRack account.  I just realized today that I never really explained what NoMoreRack is.  It's a 24 hour "flash deal" site that has huge discounts on all kinds of stuff every day starting at noon ET.  Most things sell out fast, especially when the discounts are pretty huge!
Right now they are offering a $10 credit off your first order of $20 or more for new users.
Head over and get signed up and then check back for the new deals each day at 12 eastern time.
Today's deals:
Kodak C195 Easy Share Camera bundle $88 $170 Save 48%
Jill Stuart Cocktail Dress $50 $228 Save 78%
Twisted Cable Bangle $28 $79.99 Save 65%
Marilyn Moda Femmy Short Boots $29 $99 Save 71%
Bright Chain HoboBag $28 $99 Save 72%
Clip-In Hair Extensions $38 $125 Save 70%
If you refer friends to get their free $10 credit, you can earn fun prizes like Apple products!  This is what I'm hoping to do and giveaway the prizes I earn back to you.  So sign up for NoMoreRack, and then go enter to win an Apple iPad2.